| | | |
| --- | --- | --- |
| | Moxie Anne Magnus: XenoCosmetologist | |
Moxie Magnus
Moxie Magnus is simply the queen of outer space. At roughly 8 feet tall (most of it heels and hair) she is a giant of fashion and fun. Before she started entertaining audiences, this Starfleet Academy space cadet graduated from the school of xenocosmetology at the top of her class. She went on to serve as Chief Cosmetologist aboard the USS Enterprise under Captain James T. Kirk. She does a weekly video podcast, writes a blog and entertains audiences with her comedic adventures in space. Don't know much about Star Trek? Don't worry, She's a broad with broad humor--laughs are guaranteed!
---
Brantley Moate
Brantley Moate is the man behind Moxie. Brantley and some friends started dressing in Starfleet regulation mini skirts to attend conventions and have some laughs. As Moxie grew the laughs did too and before long Moxie was introducing acts, acting as MC and finally performing stand up on her own. People just can't seem to get enough of Moxie and she's proved to be a crowd favorite. Brantley writes all of Moxie's materials which range from Star Trek specific shows to a more general pop culture crowd. Moxie's appeal has moved beyond trekkies and Brantley boldly goes where few have gone before.
---
Powered by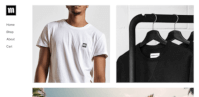 Create your own unique website with customizable templates.